2000
Assisted by a grant from Cathay Pacific, in May 2000 Riegen joined Mark Barter at Yalu Jiang National Nature Reserve (YJNNR) in northeast China for the second shorebird survey of the reserve. (The first had been done in 1999 by Barter and Jim Wilson – also from Australia.) Barter had been systematically working his way round the Yellow Sea and Bohai Bay surveying likely shorebirds sites. For many sites this was the first time they had been surveyed.
Riegen and Woodley attended a further meeting in Australia in 2000 to develop the Site Network. Woodley and Bruce Postill (DOC) later attended a Site Managers meeting in Victoria.
2002
Funded by Environment Australia, Riegen joined Barter in China again to investigate 100km of the Bohai Bay's southern coast previously un-surveyed for shorebirds. At the same time Riegen was looking for ways to establish a role for the PMNT in Asia, realising that protecting shorebirds in New Zealand was of little value if they were hunted and their habitats destroyed in Asia. At the same time a shorebird banding training workshop was help at Yalu Jiang run by David Melville from New Zealand and Pete Collins from Australia.
2003
Chen Kelin, director of Wetlands International – China Programme visited New Zealand with a group of nature reserve managers from China as guests of PMNT. They were interested in seeing New Zealand reserves and the style of management. Issues of how to help educate people and raise public awareness of shorebirds in China were canvassed and it was agreed that the first step would be to form a sister-site partnership with a Network site in China. Yalu Jiang was an obvious choice for several reasons.
Surveys and banding data showed godwits from New Zealand were being seen at Yalu Jiang and vice versa.
Yalu Jiang National Nature Reserve staff members were very keen to participate in flyway activities.
Access to the site was good, an important consideration if regular work was to be undertaken and for raising the profile of shorebirds with local people.
2004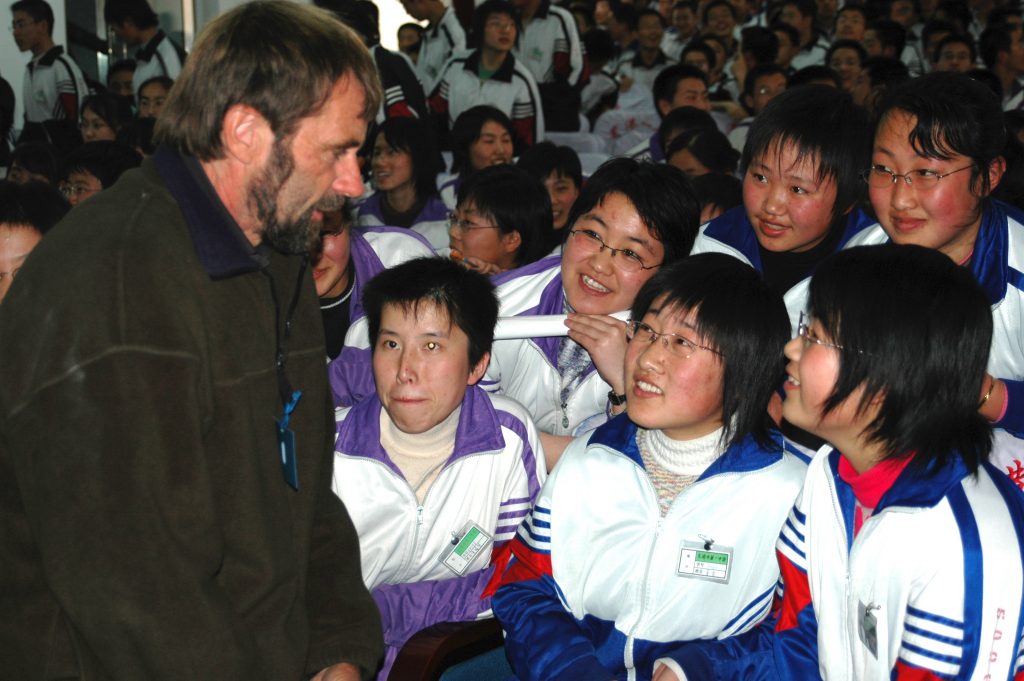 A memorandum of understanding was drawn up between PMNT and the YJNNR to promote joint projects, education, staff training and further surveys of shorebirds in the reserve. In April 2004 five PMNT members led by Chairman David Lawrie travelled to Yalu Jiang to undertake another full survey of the reserve. A different week to previous visits during the migration period was targeted. Following this a formal signing ceremony was held with high-ranking local and state government officials and YJNNR staff. The ceremony made the national TV news in China and was taken very seriously by the Chinese who saw this partnership as a valuable joint venture, and major step towards expanding their understanding of migratory shorebirds.
The Pūkorokoro Miranda delegation was funded jointly by PMNT and individual delegation members.
2005
The vice-mayor of Dandong who had been at the signing ceremony was invited by PMNT to visit New Zealand with a delegation from Dandong and Yalu Jiang. In March 2005 they spent a week at Pūkorokoro, visiting sites in the greater Auckland region. The culmination of the trip was to assist with wrybill banding. Reluctant at first, the vice-mayor eventually joined in and ended up banding several birds. This was very clearly a significant event for him because he was observed recounting it to people on the seawall at Yalu Jiang the following year. A few weeks later the Mayor of Dandong, in New Zealand with a trade delegation, asked to visit Pukorokoro Miranda. This was arranged for the first day of their visit and once again he left with a greater understanding of migratory shorebirds and a pledge to do more at Yalu Jiang for them.
Three PMNT members Riegen, Dick Veitch and David Melville joined a US Geological Survey team to the bar-tailed godwit breeding areas on the Yukon-Kuskokwim Delta in western Alaska to catch birds as part of the satellite-tracking project. Weather conditions and uncooperative birds at the time conspired to thwart the attempt.
2006
Training of the YJNNR staff was seen as vital and in early 2006 two managers arrived at Pūkorokoro, one from Yalu Jiang and the other from Wetland International – China, for an extended stay to learn about site management, educating the public and surveying shorebirds. Two further managers arrived in March for the same purpose.
In April 2006 Riegen, Woodley and two other PMNT council members visited Yalu Jiang to undertake another survey, this time a week earlier that the previous visit, and to conduct a training workshop for staff from other Chinese nature reserves. The event was a great success, and it was very encouraging to growing enthusiasm among Chinese staff and officials. Advice offered to the YJNNR staff in 2000 about possible developments had been adopted with an area close to the city of Donggang set up as a reserve with secure roost sites for the birds along with a just completed visitors centre. Bird hides to seat hundreds of people had been erected. Three hundred guests attended the official opening in April 2006, during which everyone received a close-range view of 30,000 bar-tailed godwits. Once again, members of the Pūkorokoro Miranda delegation funded themselves to China.
Riegen and Woodley then travelled to South Korea to assist with the inaugural survey of the three-year Saemangeum Shorebird Monitoring Project (SSMP). This joint project of two NGOs – Birds Korea and the Australasian Wader Studies Group – aimed to document how shorebird populations were negatively impacted by the massive 41,000 ha reclamation project at Saemangeum on the central west coast of South Korea. Baseline data on bird numbers and movements through the migration period were gathered and monitoring was to continue until 2008.
2007
A five-member PMNT delegation returned to Yalu Jiang in April to continue the work. Once again shorebird surveys, school visits and public awareness functions were the main activities. It was now evident that our regular visits had made a considerable difference in how shorebirds and their habitat needs were perceived in this region of China.
Riegen, Woodley and Nigel Millius then returned to South Korea for the second year of the SSMP. The impacts of the reclamation one year after completion of the seawall at Saemangeum were already starkly obvious. At one site in April 2006, 70,000 great knots were observed in one flock: at the same location exactly one year later barely 600 were present.
In February 2007 researchers from the US Geological Survey in Alaska, Point Reyes Bird Observatory, and Massey University joined PMNT members at Pukorokoro Miranda to implant satellite transmitters (PTTs) in bar-tailed godwits. This was partly as a consequence of failing to catch godwits in Alaska in 2005. Subsequent results confirmed birds were not only making direct, nonstop flights from New Zealand to the Yellow Sea, but were returning from Alaska in one 11,000-12,000 km flight. Inevitably the project generated worldwide media publicity.
2008
Two successive PMNT delegations returned to Yalu Jiang, where they participated in further shorebird surveys, a bird-banding training programme, initiated a pilot benthic studies programme, and visited schools. Commencing studies of the benthic communities in the Yalu Jiang intertidal zone was a significant development, something that had hardly been done anywhere previously in the Yellow Sea. Understanding the value of the site to shorebirds was vital following the colossal loss at Saemangeum. Once the single most important shorebird site in the Yellow Sea, the destruction of Saemangeum saw that distinction passed to Yalu Jiang.
Pūkorokoro Miranda members also travelled to South Korea to assist with the third and final SSMP survey. In addition a comprehensive count of shorebirds was made along the entire west and south coast of Korea which, together with counts at non-breeding sites in northwest Australia over the next two austral summers, confirmed that over 50,000 great knot (22 per cent of the population) had been lost since completion of the Saemangeum seawall in 2006.
In October 2008 PMNT Council member Estella Lee represented the Trust at the 10tth Conference of Parties to the Ramsar Convention in Changwon, South Korea.
From April to June, Woodley spent 11 weeks on the Yukon-Kuskokwim Delta in Alaska completing research for a book on godwits.
2009
Prior to his visit to Pyongyang in 2007, PMNT approached then Foreign Affairs Minister, Rt. Hon Winston Peters asking him to raise with North Korean officials the issue of migratory shorebirds. As a direct result of that initiative, on 26 April 2009, Riegen, Lawrie and Tony Habraken travelled to the DPRK. In the absence of any previous data, their survey of Mundok Reserve provided the first shorebird information from North Korea. Among birds counted were 2,400 bar-tailed godwits including individually marked birds from North and South Island, New Zealand, three regions of Australia, Chongming Dao on the Yangtze Delta, and Barrow, Alaska.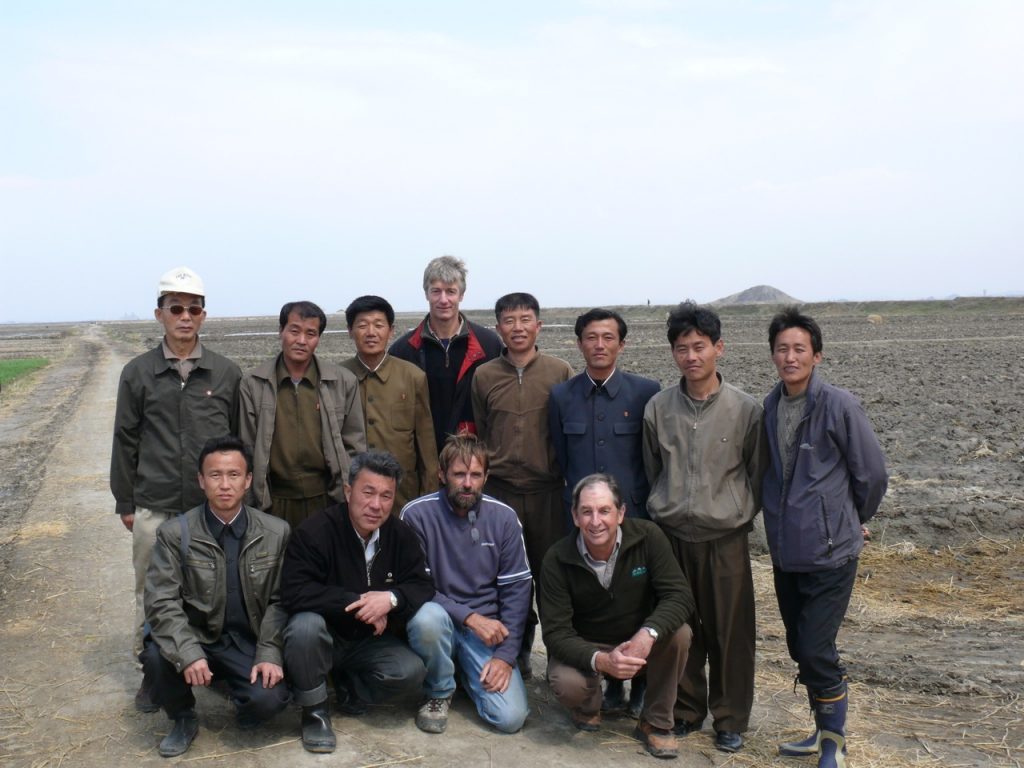 The survey in the DPRK followed on from another survey and educational trip to Yalu Jiang held a week earlier involving several people from the PMNT.
In October Woodley's book Godwits: long-haul champions was published by Penguin NZ.
2010
A five-member PMNT delegation returned to Yalu Jiang in April, where a six-day survey of the reserve recorded over 176,000 birds, 84,000 of them bar–tailed godwits. The delegation assisted with running a Ramsar-sponsored shorebird identification and counting workshop at the Reserve, attended by staff from reserves elsewhere along the Chinese coast. A workshop sponsored by Wetlands International was held in Donggang, where Estella Lee gave a moving and well received presentation in Chinese on behalf of PMNT.
In October Woodley addressed a symposium on migratory waterbirds, organised by the Korean National Parks Service at Mokpo, South Korea.
In December Lawrie represented PMNT at the 5th Meeting of Partners of the EAAFP, at Siem Reap, Cambodia.
Next Page: Timeline 2011-2020 –>