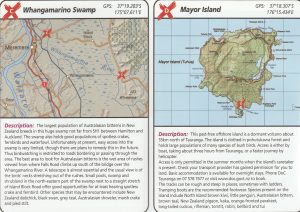 Birding: Where to go and how to get there
Developed and produced by Birds New Zealand, this series of six maps is an essential tool for all birders. If you are visiting New Zealand you will need these items.
Each of six main maps contains smaller maps with detailed text for each hotspot location: site description, getting there, and birds likely to be seen.
In all there are maps for 122 birding locations throughout mainland New Zealand, Stewart Island and several offshore islands.
Printed on waterproof material, they are ideal for in the field.
$11.90 each or $55.00 for a set of six.  Purchase here