22nd April 2019
A Pacific Golden Plover – known to Maori as Kuriri – has touched down in Japan after a 9,000km flight which will greatly increase knowledge of the species and so help keep them coming to New Zealand from the Arctic.
The bird, nick-named Amanda, was fitted with a satellite tag some weeks ago as part of a research project by the Shorebird Centre, based at Pūkorokoro Miranda on the Hauraki Gulf, aimed at finding out why the number of Pacific Golden Plovers coming to New Zealand has declined sharply.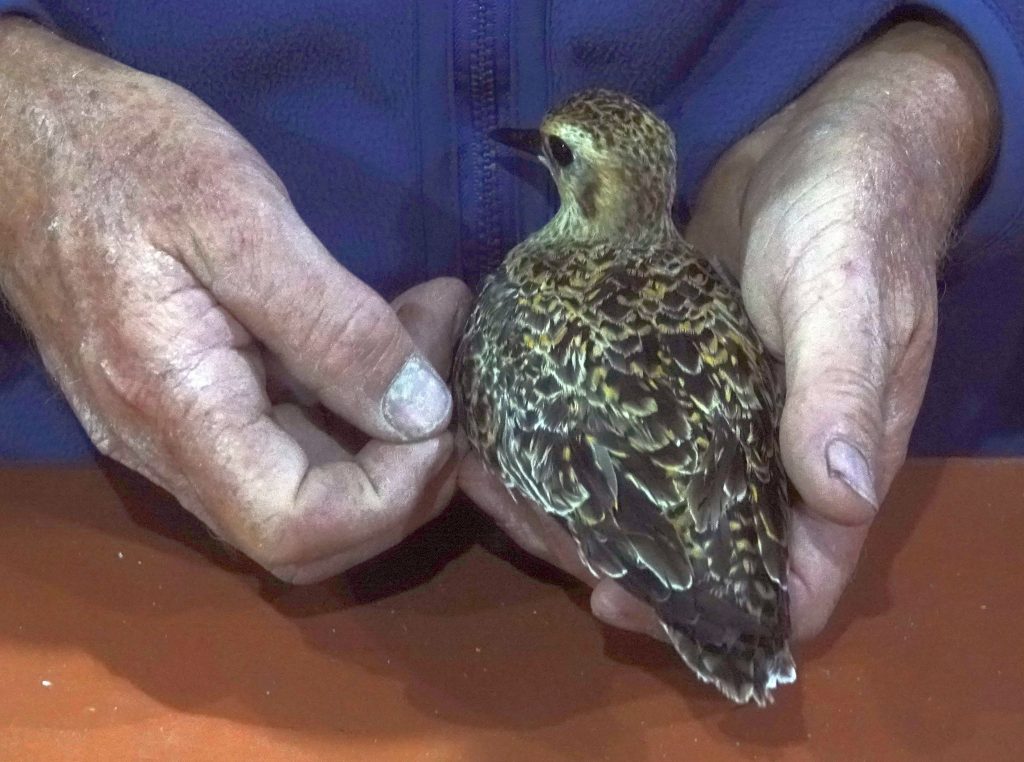 On 8 April Amanda left New Zealand with a small flock of other Kuriri and headed northwest (her track is shown in light blue on the attached map). Information from the tag tracked her path and her latest satellite reports indicates that she touched down on the Japanese Island of Honshu, not far from Tokyo late afternoon on 16 May (the tags are programmed to save power so there is usually a delay in receiving information).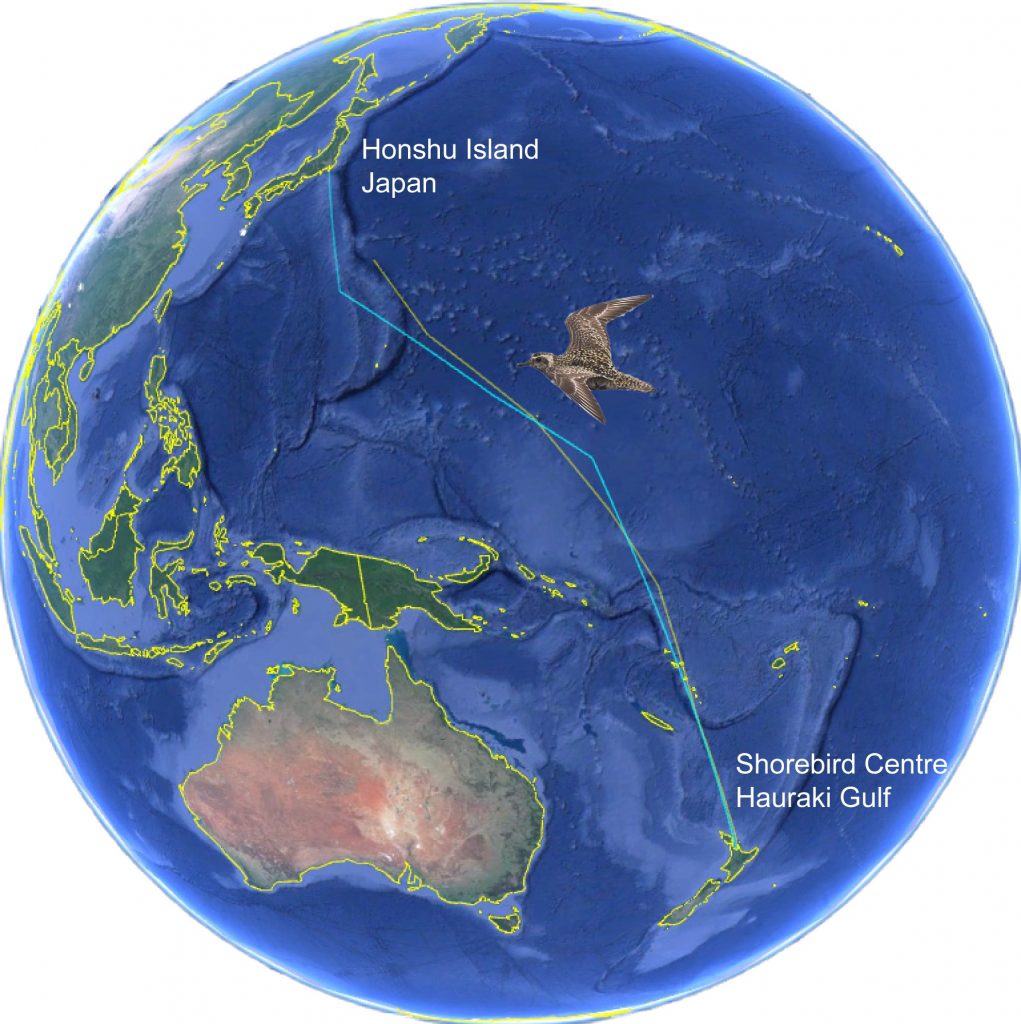 It is likely Amanda will stay in Japan for around three weeks, resting and refuelling, before heading for her nesting grounds somewhere in the Arctic. A second tagged plover, nick-named JoJo, left New Zealand on 12 April, appears to be following a similar route and is approaching Japan (her track is shown in green). A third bird, Jim, is still at Miranda filling up on worms.
Project coordinator, Jim Eagles, said Amanda's arrival in Japan was hugely exciting. 'These plovers have been coming here for thousands of years, they're officially natives because they spend more than half their life in New Zealand, but until now we've known very little about them. We don't know where they breed, what route they take to get here, where they stopover on the way or, most importantly, why their numbers are declining. The fact that birds like Amanda – who is about the same size as a blackbird but a lot stockier – can migrate from one end of the world to the other is remarkable. If as well as tracking this leg we are able to follow her along the rest of the migratory cycle, on to her breeding grounds and then back to New Zealand in September, she can give us much of the information we need to start finding out why their numbers are falling.'
Adrian Riegen, of the New Zealand Wader Studies Group, who was the lead bander on this project and leaves shortly for the sixth leg of the first ever survey of migratory birds along the coast of North Korea, said the information provided by the satellite tagging project would be hugely important. 'Amanda's flight has already told us more about Pacific Golden Plover migration from this country than has been learnt throughout the entire history of New Zealand ornithology.'
The bird's namesake, Amanda Hunt, this year's shoreguide at the Centre, who volunteered countless hours to help the project, said, 'I'm delighted and astonished. It's hard to believe that just a few weeks ago I was holding her in my hands. Such a tiny thing to go all that way. I feel nervous about what might happen to her though. I hope she will stay safe so she can travel on to her next destination with us looking on. This is one of the most exciting things that I've ever been involved with. Godspeed little bird.'
The project was launched because when wader counts first began in New Zealand 30 years ago they recorded around a thousand Pacific Golden Plovers each summer. Now they are lucky to find 200-300. It has been organized by the Pūkorokoro Miranda Naturalists Trust, which runs the Shorebird Centre, and supported by grants from Lush Handmade Cosmetics, Ron and Edna Greenwood Environmental Trust, Mazda Foundation, Birds New Zealand and Trust members.
Go to the Where's Goldie? main Pacific Golden Plover Project page for more information.

Kuriri tracked on 9,000km flight to Japan