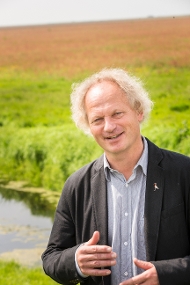 Eminent Dutch biologist and ecologist Professor Theunis Piersma returns to New Zealand for our final Year of the Godwit events.
Author and co-author of hundreds of peer-reviewed papers and other publications, Theunis leads a global team of researchers unravelling the mysteries of shorebirds and their perilous future.
Sunday 29 November at 11.00 a.m. Birding first.
Why is the Yellow Sea the conservation bottleneck for our migratory shorebirds? The scientific evidence.
Pukorokoro Miranda Shorebird Centre, 283 East Coast Road
Please note this date differs from the one originally advertised in our events calendar for the year.
Tuesday 1 December at 7.00 p.m.
The Conservation Ecology of Red Knots: why are our knots so endangered?
Lecture Room 732,
University of Auckland Tamaki Campus, Gate 2, 261 Morrin Road, St Johns 1072