11th July 2019
And so the excitement continues.
The latest satellite report indicates that Wee Jimmy arrived in Alaska on 5th July 2019, after a 16,600km journey from Pūkorokoro which took 73 days, and is resting up near Lake Selawik. But before that, in the course of an odyssey which took him to Guam, Okinawa, the Yellow Sea and northeastern China, he seems to have spent three weeks in Siberia. So, he could be an eastern Siberian bird who arrived too late to breed, and after dallying unsuccessfully on his nesting grounds for a time has headed over to Alaska (as, for example, juvenile Sharp-tailed Sandpipers do) to fatten up for the long flight south. Or he could be an Alaskan bird who just decided take the scenic route and got home too late to find a partner (or maybe is just too young to breed). We have come to expect no less from such an extraordinary individualist.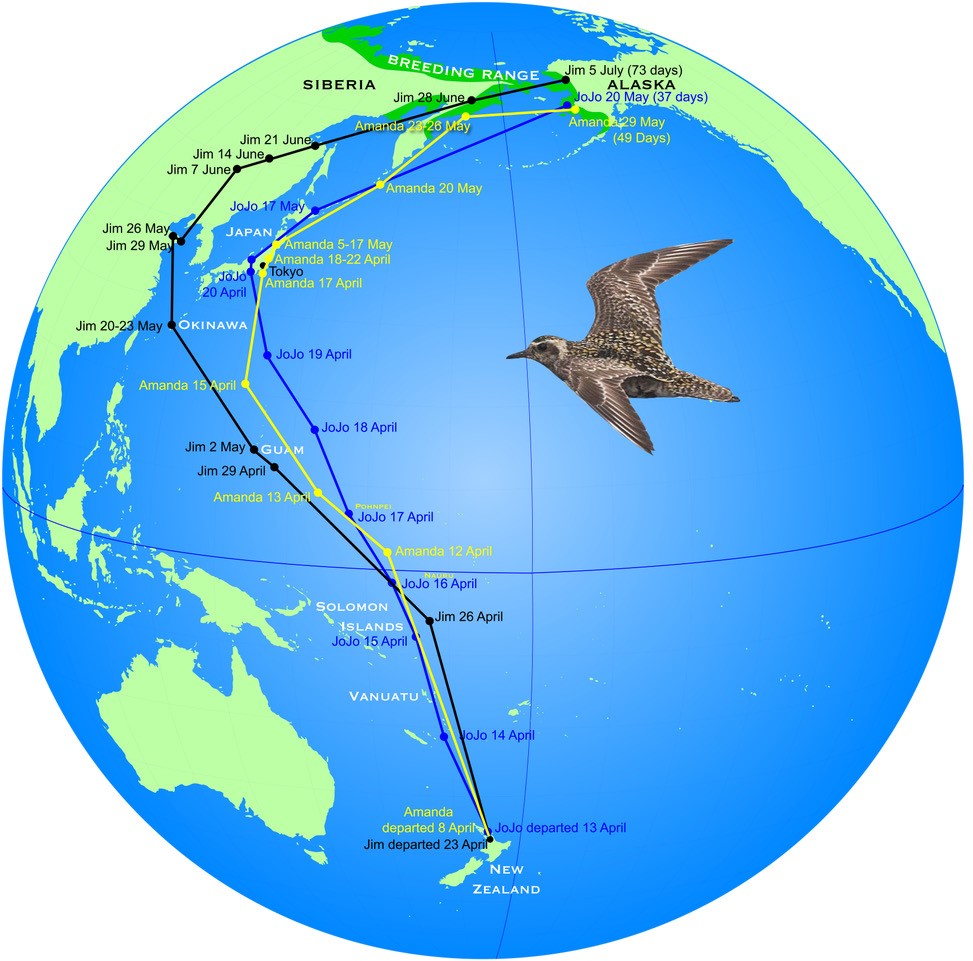 Meanwhile, 600km further south on the Yukon Kuskokwim Delta, the ever-reliable JoJo and Amanda are still in the same place, which they got to in half the time taken by Jimmy. They have both very likely raised chicks and by now will also be starting to prepare to return to the South Pacific in a couple of months.
Hopefully they will aim for New Zealand again and the satellite tags will allow us to see whether they head straight down the Central Pacific or return the way they came up via Asia.
To see all the details of their journey and explore on your own, you can download the latest Google Earth files here.
Go to the Where's Goldie? main Pacific Golden Plover Project page for all the project information.

Satellites track 3 Kuriri all the way to the Arctic